Nau mai haere mai, Greetings | Tena Koutou | Talofa Lava | Malo e Lelei | Namaste | Ni sa bula | Noaia'e mauri | Fakalofa lahi atu | Kia Orana | Asalam Alykum | Ni Hao | Konnichiwa | An Nyung Ha Sai Yo | Nay Ho | Goeie Môre | Привет
:
Dear Parents
Wonderful to see the Commonwealth Games not only going ahead but also the great successes of the NZ teams. Many great role models to inspire our students. We like most schools are finding the challenges of Covid-19, flu and winter illnesses challenging. During the holidays, 9 staff were sick with Covid and today 6 staff are away with sickness. It is important to keep your child home so they do not spread Covid-19 or other bugs, flu etc
Most common symptoms: fever, cough, tiredness, loss of taste or smell
Less common symptoms: sore throat, headache, aches and pains, diarrhoea a rash on skin, or discolouration of fingers or toes, red or irritated eyes
Serious symptoms: difficulty breathing or shortness of breath, loss of speech or mobility, or confusion, chest pain
A sick child will potentially pass onto their classmates but also staff resulting in significant disruption to learning and teaching. Thank you for everything you are doing this winter with supporting mask wearing.
Your Child's Attendance
Thank you for your support in ensuring your children are not only attending school each day but are on time. At present, our average attendance rate is 83.3%. Covid – 19 and winter illnesses have certainly had an impact on student attendance.
80 % attendance means your child:
 is absent two days every two weeks
 is absent two weeks a term
 is absent two whole school months a year
What about just being regularly late?
If your child is regularly late, does it affect their well-being and learning?
The following advice is adapted from an article called "Effects of Tardiness on your Child's Education" 2016, which clearly explains how, frequent lateness to school affects your children's well-being and their learning.
We all run late sometimes. For your child, arriving late to school occasionally will not cause major disruption. Inevitably, children will feel sick or tired some mornings, or other situations will prevent them from being on time. Chronic lateness eventually takes its toll on a child's overall educational experience.
Missing just 10 percent of the school year in the early years causes many students to struggle in primary school, and lateness in later years is associated with increased failure and dropout rates. Fortunately, parents can help prevent tardiness from becoming frequent enough to affect their child's school life.
Sick Bay
If your child needs to be picked up from the sickbay, please be prompt. The sickbay is required for other children who also have injuries or sickness.
Disrupted Routines
One of the most important aspects of school is that it is organised, scheduled and predictable. Students depend on the structure of the day. They know where they have to be and when. They know the main purpose for being in school is to learn and that routines are in place precisely to help them focus on that learning. When students are repeatedly late, these routines are disrupted. Children who are late have trouble settling in and mastering routines. Tardiness can throw off their whole morning or even their day, especially if the late commute to school was stressful.
Social Criticism
The social experience has a powerful impact on a child's feelings about school and his or her ability to be academically successful. When a child continuously shows up late to class, other students are distracted. Attention is drawn away from the teacher or class work and toward the child who has just arrived. Over time, classmates may begin to criticise this child, affecting how they feel about themselves in school.
During adolescence, children are especially conscious of fitting in and being accepted by peers. According to the Encyclopedia of Children's Health, children with steady friendships throughout the school year enjoy school more, and children who can make new friends tend to perform better academically.
Responsibility
Part of your child's education is learning to be responsible. The school experience teaches children how to meet expectations. They learn to follow schedules, obey rules, complete assignments and keep track of their materials. Learning responsibility in school is a precursor to functioning in the working world, as noted by William Kirby in his 2010 article "School Attendance Tied to Academic Success".
Attendance is one of the ways children show they can meet their obligations. In many cases, a child's attendance depends on his parents' ability to help him be on time. Parents can teach their children organisational techniques that will help them get out of the house faster, such as packing their bags and laying out their clothes the night before school. Parents who drive their children must also remember to be punctual and responsible. After all, you are the primary role model. ("Effects Of Tardiness On Your Child's Education" 2016)
Once again thank you for all your efforts.
Staff Profiles
It has been a number of years since we have had staff profiles and with many new families starting, we feel it is a good time to share a little about ourselves. Each newsletter a different member of staff will share their story.
Fintan Kelly – Principal
Personal
I am essentially an Auckland boy having grown up in Hillsborough in Auckland. My parents are of Irish decent. Mum passed on during the first lockdown and dad lives on his own close to family. I have eight siblings and a very large extended family. I have been married to my wife, Brenda for 32 years and we have three children, whom we are very proud. I enjoy fishing and golf although not the good at either.
Professional
I have been a principal for 26 years at various schools in central Auckland. I graduated from teachers college a long time ago but continued my education and completed three Masters Degrees. I really enjoy leading a great team of teachers and the awesome students here at Pakuranga Heights School.
Board of Trustee Farewells
We farewell Mrs Fiona Bailey after 9 years of service on our Board. Fiona has served many roles including finance, appointments and Presiding Member (Chairperson). We also farewell Mrs. Rachel Makata after 6 years of service and Mr Matt Franetovic after 3 years of service. The Board members has been responsible for the great improvements to the facilities available for all the students and staff. We have appreciated their dedication to the role and support especially during the Covid- 19 disruptions and challenges.
"We make a living by what we get, but we make a life by what we give." Winston Churchill
On behalf of our school community, a huge thank you to Fiona, Rachel and Matt for making a real difference their dedication and expertise.
Welcome to Our New Board of Trustees
Alex Winter (re-elected), Matthew Robertson (re-elected) , Gillian Ardern (parent), Zeena Bode (parent), Svend Hansen (parent) and Sue Kandasamy (staff representative)
Property Update
The field has recovered after an incredible amount of rain over the past month. Thank goodness, we have the large shade area so the children have been able to get outside.
Room 18 and room 19 refurbishment is progressing. According to the building company we can expect to have the building finished by ??
Technology Upgrade in the Junior School
All junior classrooms received their interactive TV and mobile stands. This will allow them to be used anywhere in the classroom and they can be adjusted to the child's height. They replace the old short throw projectors.
School Zone 2023
Last week a SignMee email with information from the Ministry of Education about the draft zone they intend to implement in time for the 2023 school year. Please take the time to read this information and complete the feedback survey.
Reminder Teacher Only Day
School will be not be open on Friday 19 August. The teachers will be working with Traci Sietu, an expert on cultural competencies. Please contact OSCAR on 022-3822858 if you would like to book your child in for holiday programme for that day. Cost is $30 per child.
What does this mean?
Cultural competence requires an awareness of cultural diversity and the ability to function effectively and respectfully when working with and treating people of different cultural backgrounds. Cultural competence means an education professional has the attitudes, skills and knowledge needed to achieve this.

:
Cross Country
Recently we held trials for the interschool cross country team to compete at the HPPA Cross Country to be held shortly. This trial was open to all interested students. A school fun run event for all students to participate in is being planned for Term 4 when the weather is more reliable and we are able to use the field. More information will come home about this closer to the time.
PTA Meeting
Upcoming PTA Meeting 6.30pm for 7pm start, Tuesday 23 August in the staff room. We would love to meet you and need new members, so please come along to find out a bit more.
What is the PTA?
The Pakuranga Heights PTA (Parent Teacher Association) is a group of parents of children who attend Pakuranga Heights school and includes a teacher representative from the school. The PTA works to support the School to foster relationships amongst the school's community and to raise funds to improve the services and facilities of the school. It is a fun way to meet other parents, get involved in the community and support our school.
We do this by:
· Supporting the interests and educational advancement of our students
· Gifting resources that meet school needs
· Supporting school/student events e.g. Disco/cultural nights
· Providing catering support for school/student events
· Encouraging and supporting the school community to meet and get to know each other
· Organising events that will bring the school community together across the school.
· Organising Successful Fundraising
· Grant Applications
Roles within the PTA
The Chairperson/President
This person has been chosen by all members of the Association to be a leader and manager. They secure participation, co-operation, harmony and a sense of responsibility from the members to display initiative, working spirit and ability. The President aims to have a complete knowledge of the organisation and its possibilities, its aims and methods, its history, members and spirit.
The Secretary
The two main jobs of the secretary are to keep the official records of meetings through minutes and to deal with all inward and outward correspondence.
The Treasurer
The treasurer administers the funds of the organisation. They receive and disburse funds on behalf of the organisation and are responsible for accurate financial recording keeping.
Members
Other volunteers that help when and as is needed to deliver the various tasks of the PTA.
Currently the formal roles are held by:
Chairperson – This role is currently unoccupied due to our previous Chairperson having left the school community
Treasurer – Paulette Shirley
Secretary – Gillian Ardern
Teacher Representative – Monique Browne
How can I help the PTA?
· Become a member and bring your skills, knowledge, abilities, and energy to help in delivering our initiatives
· Volunteer to serve/help at events/initiatives we run
· Offer goods and/or services you have access to
· Support organisations that provide funding to the PTA eg. The entertainment book
For further information or to get in touch email pta@pakurangaheights.school.nz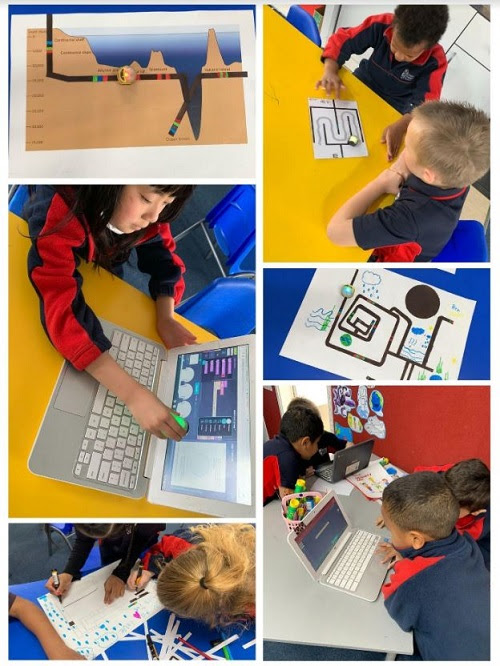 Room 11 has been integrating digital technology into our classroom program. We have been learning how to code and design Ozobot tracks to create informative posters on how to save water, the water cycle, and the depths of the ocean. When our Ozobot reached an important part of the information, we coded it to do a special trick so we could read our facts to the class. We had so much fun using Ozobots during our literacy time!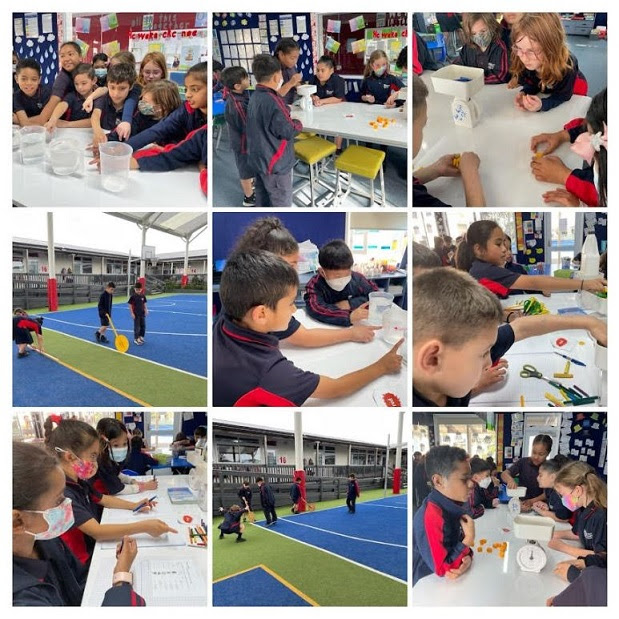 Room 12 started the term learning about measurement. Students used measuring instruments to identify and compare the mass, length and volume of various objects. When comparing objects students are able to use language such as lighter, heavier, lightest and heaviest to describe their measurements. Room 12 has gained an increased awareness of measurement and know that it is found all around them.


We are emailing you to let you know of an amazing opportunity for the girls at your school. This is a program supported by Futures Auckland to encourage girls to engage in golf, by offering a free immersion chance at the extremely cool driving range facility at Remuera Golf Club in Auckland. I have attached posters for your interest and would be thrilled if you could distribute in the best way to your school community.
This is fully funded and free for participants. As we will use the latest technology alongside professional coaching on the mornings to engage the girls, our numbers are strictly limited so we ask for them to register online via the links provided.
We hope that there will be a great many of your school community who will take up this wonderful offer and enjoy their Saturday morning at our Range facility. Please note the range is an indoor venue and the program will go ahead in any weather. There is also plenty of free parking onsite along with food and drinks which can be purchased.
Advertised items are from paid advertisers or non-profit organisations and the content in these advertisements do not necessarily reflect the view of the school nor has the school endorsed their products.