:
Nau mai haere mai, Greetings | Tena Koutou | Talofa Lava | Malo e Lelei | Namaste | Ni sa bula | Noaia'e mauri | Fakalofa lahi atu | Kia Orana | Asalam Alykum | Ni Hao | Konnichiwa | An Nyung Ha Sai Yo | Nay Ho | Goeie Môre | Привет
:
Dear Parents
Thank you for your support during the term in so many ways, such as wearing a mask, cultural days, interschool sport and ensuring your child is ready to learn. It is hard to believe the daylight saving starts this weekend roll on summer.
New long-term strategy for COVID-19
You will be aware that New Zealand has moved to a new, long-term approach to COVID-19. These changes made based on public health advice and reflect high levels of immunity and declining case numbers across New Zealand.
This new approach will only result in minor changes to the way we operate.
The very positive news is that household contacts of a person with COVID-19 do not need to isolate, but instead are asked to complete a RAT test each day, for five days. Therefore, students who are household contacts but test negative and do not have COVID-19 symptoms, should continue to attend. It is the best place for them to be so they can be engaged in their learning, and connected with their teachers, classmates and friends.
Request free COVID‑19 RAT kits
Anyone in Aotearoa New Zealand can get free RATs. You can pick these up from a collection site.
https://requestrats.covid19.health.nz/
Mask wearing is no longer required. All the other recommended public health measures will stay in place as we know they reduce the spread of infectious illnesses including COVID-19. These include ensuring our indoor spaces are well ventilated, maintaining good hand hygiene, encouraging everyone to cough or sneeze into elbows and, most importantly, staying home and getting tested if they have COVID-19 symptoms.
Thank you for your ongoing support in protecting our community.
Assemblies and Events
We will use the TLC Shade area in the middle school weather dependent for all our assemblies and gatherings. This will guarantee ventilation and not being all squashed into the hall. Everyone is welcome to our assemblies.
Public Holiday – School Closed Monday 26th September
Queen Elizabeth II was an extraordinary person and I know many New Zealanders will appreciate the opportunity to both mark her death and celebrate her life.
Senior Leaders Planning Days
The senior leaders will be offsite later this week in order to start planning for 2023. Mrs. Trish Plowright former principal of Elm Park School will be my release person and Mrs. Margaret Walker will be available to assist.
Term 4 – Sun Safety is Important
We encourage all children to be sun smart by wearing hats and sunscreen.
There are several reasons why New Zealanders are at a high risk for developing skin cancers – including our ancestors having fair skin, our low ozone levels and our cultural emphasis on 'the great outdoors'. Keeping sun safe is not optional in our country, it is essential.
Our unique environment causes us as New Zealanders to be particularly vulnerable to damaging ultraviolet rays.
Skin cancer is the most common cancer in this country – almost 80% of new cancer cases in NZ are skin cancers.
New Zealand has one of the highest rates of skin cancer in the world, and together with Australia we have the highest melanoma rates.
There are nearly 67,000 new skin cancers a year, including 2400 new cases of melanoma.
There are over 300 deaths from skin cancer annually.
Maori and Pacific Islanders represent a low percentage of the overall skin cancers diagnosed, however they are more likely to suffer from fast growing and difficult to diagnose melanomas.
Prevention is much, much better than cure
As skin cancer is so serious, it is vital that parents teach children in New Zealand how to be sun safe. The best mode of teaching is to model sun safety ourselves! How can we do that? Learn the S and W words below and repeat them all the time in your family – make sure you think about each aspect before spending time in the sun until sun safety becomes a firm habit amongst those in your household.
SHADE: Limiting your UV exposure from sunlight best achieved by keeping in the shade as much as possible. If you plan to sit on the beach (or somewhere else in the sun) often as a family, a sun umbrella is a great investment.
SLIP: If being in direct sunlight is unavoidable, cover your skin with clothing. Think about putting a long sleeve t-shirt, and long, light pants on yourself and your children. A small amount of discomfort now could prevent serious repercussions later.
SLOP: Sunscreen used in addition to covering your skin, not instead of. Always have to hand some SPF 30+ sunscreen* – check it has not expired and store it in a cool location. Apply sunscreen quarter of an hour before sun exposure, and reapply it every two hours or after swimming. Use approximately a teaspoon on each limb, and 1/2 a teaspoon on other exposed areas.
SLAP: Slap on a hat. Have spare sunhats for the family kept in the car.
WRAP: Wear sunglasses that block UV to protect your eyes and the skin around them. The best sunglasses will state on them that they meet Australian/New Zealand standards for UV protection.
* Special children's sunscreen is not required, so long as your child does not react to regular sunscreen. Children's sunscreen is often a milder but effective version. It is generally considered that the benefits of sunscreen far outweigh any concerns over the products used in sunscreen formulation.
The sun is harshest between the months of September and April in New Zealand – so it is best to apply the above practices throughout this period. Be very careful around reflective surfaces at any time of the year – including snow and water. They make the effects of the sun on the skin much worse.
http://www.kiwifamilies.co.nz/articles/keeping-safe-sun/
Summer Uniform
Black shoes or black sandals
Term dates, start and finish for Term 4
Start Date: Monday 17th October
End Date: Tuesday 20th December

:
Eastern Busway update – Pakuranga Town Centre to Ti Rakau Drive Bridge
We would like to let you know that work will take place around Pakuranga from mid-September 2022 to prepare for the Eastern Busway to be built. Construction is scheduled to start in the William Roberts Road area in early 2023.
This message is to update you on the work and to let you know how we are informing neighbours and the broader community.
The preparation stage will include deconstruction and removal of houses, buildings and trees in Auckland Council owned properties on Ti Rakau Drive between the South-Eastern Highway and Ti Rakau Drive Bridge, on Seven Oaks Drive and on William Roberts Road.
Removing vacant properties will create space for dedicated bus lanes, cycle lanes, new footpaths and planting, and the Reeves Road Flyover. We have been working with tenants to support them into new accommodation, and many properties are now becoming vacant.
What to expect:
• Work will take place from Monday to Friday between 7am and 6pm, and on Saturdays if required
• Security fencing will be installed around vacant properties before removal
• Trucks, diggers, and similar machinery will be used
• Experienced, specialist removal and deconstruction crews will ensure the work is carried out safely and efficiently
• Hazardous materials including asbestos will be disposed of safely
• Workers will be wearing personal protective clothing and equipment and will follow all safety procedures required for the safe handling of hazardous materials
• Noise and dust will be managed with care to ensure that disruption is minimised
• Security teams will monitor the vacant properties
• Neighbours will continue to have access to their properties at all times, and will be given further details of what they can expect to see before we remove properties near them.
• When we relocate properties there will be some temporary road closures at night to avoid disruption to daily commuters. Electronic signboards will be visible along Ti Rakau Drive, William Roberts Road and Pakuranga Road to provide advanced notification of closures.
Reuse, repurpose and salvage
We are aware that our actions and the choices we make affect the environment, so we are taking steps to ensure we reuse, repurpose and salvage what we can including:
• Relocating a number of suitable properties so they can be used again elsewhere
• Deconstructing properties carefully to recycle materials like kitchen and bathroom units, doors, windows, floors, timber, metals and concrete
• Removing materials for recycling offsite, and reusable items may be made available to community groups
• Diverting at least 80% of non-contaminated materials from going to landfill.
Site establishment – September 2022
• We will begin establishing a secure site laydown area at 169 Pakuranga Road, to store and handle construction materials and vehicles
• Security fencing will be installed and will remain for the duration of the project
• Our crews will access the site from Monday to Friday between 7am and 7pm, with multiple truck movements during the day and occasionally on Saturdays from 7am to 5pm
• We will keep within the permitted noise limits and carefully manage dust at the laydown site to minimise disruption to neighbours.
Further information is available on 0800 BUSWAY (0800 827 929) or emailing info@easternbusway.nz. The project website is www.easternbusway.nz where you can also sign up to receive our monthly updates.
Yours sincerely
Ben Parsons
Customer and Community Lead
Eastern Busway Alliance
: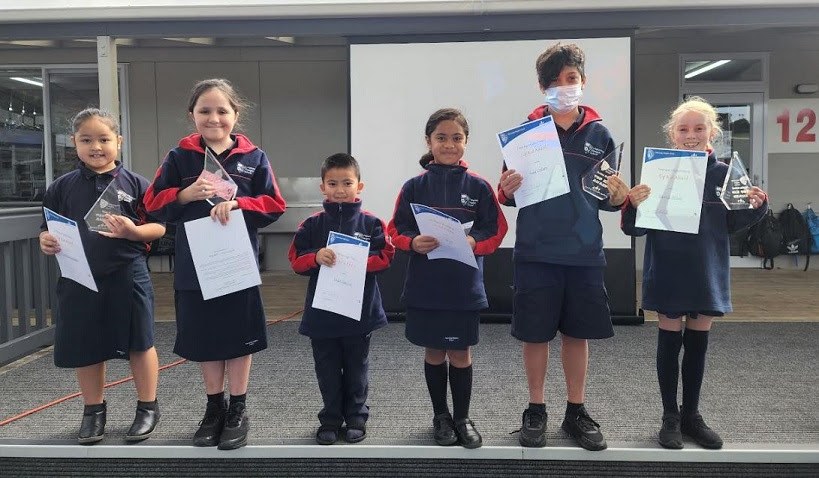 :
Congratulations Isah-Rose Atalani, Shyloh Te Hira, Patipa Nyan Mon, Tina Vai, Riley Graham and Hannah Winter
:
Our lovely caretaker and students of Room 11, have put bird feeders around the school. The Tui feeders have a sugar nectar inside the bottles. Sugar water is a great supplementary food for nectar-loving birds like tūī, korimako (bellbirds), and kākā.
I hope we enjoy seeing more native birds in our area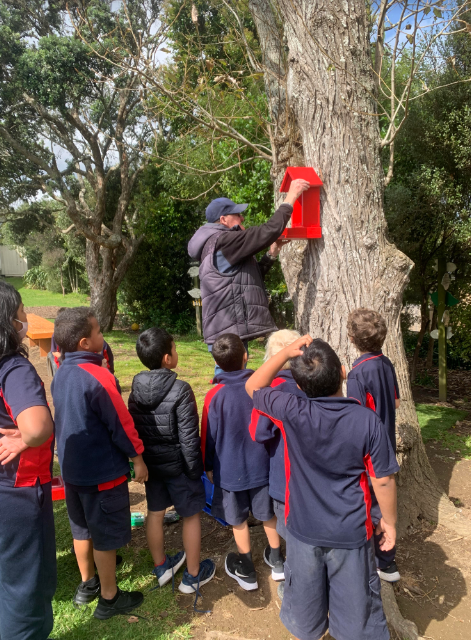 :
A great fun day last week had by our netballers – our Year 4/5 team – 4 wins, 1 draw and 1 loss and our Year 5/6 – 4 wins, 2 losses.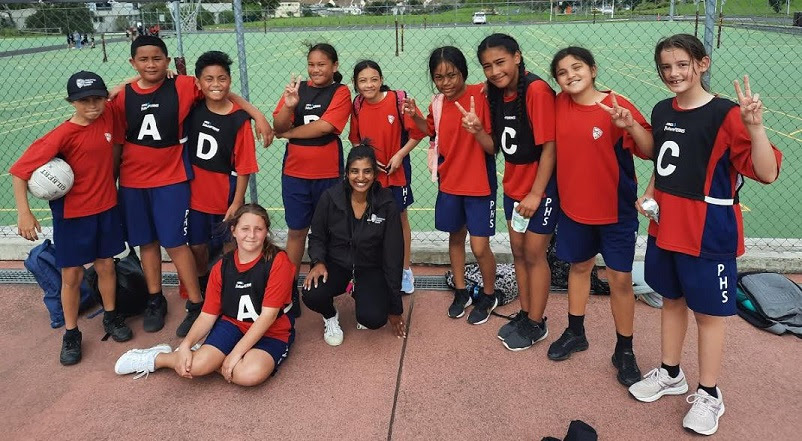 :
Room One was lucky enough to have an expert teacher from the Howick Historic Village come to talk with us. It was Ellen Holliss, who is the mother of Rachel from our class. Ellen shared with us toys that the early settlers of Pakuranga would have played with, as well as lots of other household items including a vanity kit. We were also lucky enough to be able to dress in some of the clothes that children would have worn back then. Ellen taught us about Mr Udy who ran an orchid in Pakuranga, so where our school is today would have been covered in apple trees and wheat, Room One thoroughly enjoyed listening to Ellen and exploring all the historic items.



Advertised items are from paid advertisers or non-profit organisations and the content in these advertisements do not necessarily reflect the view of the school nor has the school endorsed their products.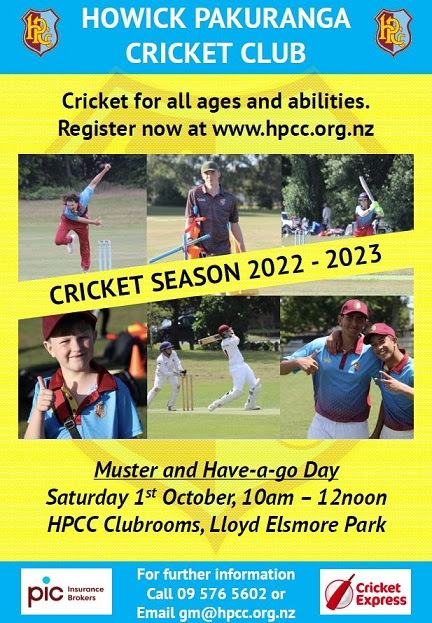 At the Howick Pakuranga Cricket Club (HPCC) we are preparing for the new season and are spreading the word that registrations are open and cricket is not far away. The club offer a wide range of cricket programmes for players of all ages and abilities, and we aim to have a real community feel in everything that we do. Through the season we work with many schools in the local area, and it is fantastic to see so many children being introduced to and enjoying cricket.