:
Nau mai haere mai, Greetings | Tena Koutou | Talofa Lava | Malo e Lelei | Namaste | Ni sa bula | Noaia'e mauri | Fakalofa lahi atu | Kia Orana | Asalam Alykum | Ni Hao | Konnichiwa | An Nyung Ha Sai Yo | Nay Ho | Goeie Môre | Привет
:
I am proud to say that every day we see your children upholding the school values, reflected in the way they interact with each other, adults and visitors to the school. To all our wonderful student leaders who stand out on crossing duty in all types of weather to ensure students cross the road safely, the students who were monitors, leaders or helped in any way to make this a great school, we are very proud of you.
This is the last newsletter for 2022, there are a few people I would like to thank for their work this year:
To the Board of Trustees, thank you for your support and guidance.
To the PTA, our sincere thanks for your many contributions of time and energy as well as the resources you buy for the school.
To all our parent helpers, thank you for your involvement and support.
Staffing Update
We farewell Mrs Margaret Walker who is retiring after many dedicated years of service at Pakuranga Heights School. Margaret will leave a large hole as she has been involved in and capably led many areas of the school. We will miss Margaret and wish her all the best for her retirement.
We also farewell at the end of the term Miss Taylor Gill who is moving out west. We thank Taylor for her time at Pakuranga Heights School and wish her all the best in her future teaching career.
Sister School Update – Mulberry School, Tryphena, Gt Barrier
Mrs Kandasamy and I worked with the staff to work looking at teaching and learning alongside strategic planning.
School Reports and Classes for 2023
School reports sent home this Friday 16th , December with notification of your child's classroom and teacher for 2023. We remind all students that the reports are addressed to you as parents and unless they have your permission, they are not to open them.
Optional Parent Interviews
The reports are sent out early to allow time for any parents to meet with their child's teacher should you wish to. Please contact your child's teacher directly or through the school office.
Last day of school – Wednesday 21st December 2020
School closes 1 pm on the last day of school. Please arrange for your child/ren to be picked up at this time or alternatively, the after school programme will be available.
Term Dates – 2023
Term 1: Tuesday 7th February – Thursday 6th April
Term 2: Monday 24th April – Friday 30th June
Term 3: Monday 17th July – Friday 22nd September
Term 4: Monday 9th October – Wednesday 20th December
Holiday Office Hours
Monday 23rd January – Wednesday 25th January 8am – 12pm
Thursday 26th January – Friday 27th January 12pm – 4pm
Tuesday 31st January – Friday 3rd February 9am – 12pm
Holiday Uniform Shop Hours
Monday 23rd January – Wednesday 25th January 8am – 10pm
Thursday 26th January – Friday 27th January 2pm – 4pm
Fintan Kelly
Principal


:
Families leaving the school
School Leavers – Notice re ezlunch / Kindo School Shop
If your family is leaving our school and has been using ezlunch or Kindo, please make sure to stop any regular automatic payments that have been set up before the school year finishes. You may also need to transfer or close your account which can be done as follows:
Not sure if your new school is using Kindo? If you're not sure if your new school is using Kindo, you can either ask them directly or go to "My Details" in your Kindo account and click on the list of schools to see if your new school is listed.
New school IS using Kindo. If your new school is using Kindo, simply click on the new school from the list in "My Details" of your Kindo account and you'll be attached to the new school's menu. Any balance on your Kindo account will remain available to spend with the new school.
New school is NOT using Kindo, or you no longer need Kindo. If you need to close your Kindo account, use the "Close Account" button within the "My Details" section of your Kindo account. You can either withdraw your account balance or choose to donate your balance to the school. Please note that all withdrawals will be made via electronic payment to your New Zealand bank account. Kindo is unable to process cash withdrawals.
If you are wanting to withdraw your Kindo account balance or make a donation that exceeds Kindo's threshold (currently more than $10,000 total within one year), Kindo may need to undertake some identity checks on you to comply with its obligations under the Anti-Money Laundering (AML) and Countering Financing of Terrorism (CFT) Act 2009. Please action the withdrawal or donation in your Kindo account as outlined above and if these AML checks are necessary Kindo will advise of the next steps required in this regard. Kindo has endeavoured to make this process as pain-free as possible and appreciates your patience.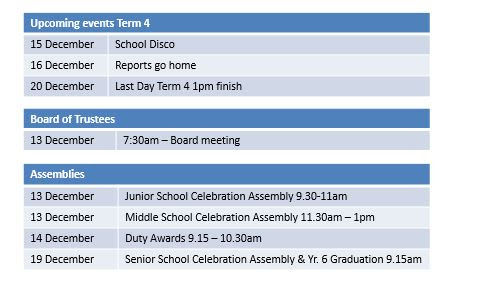 Room 23: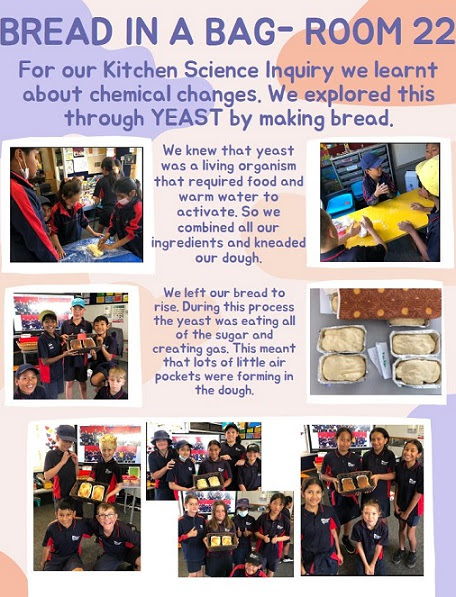 Advertised items are from paid advertisers or non-profit organisations and the content in these advertisements do not necessarily reflect the view of the school nor has the school endorsed their products.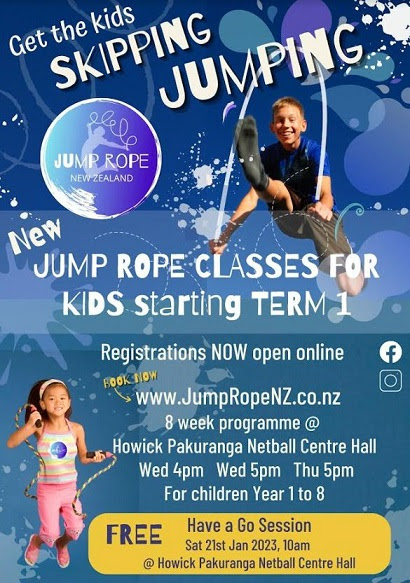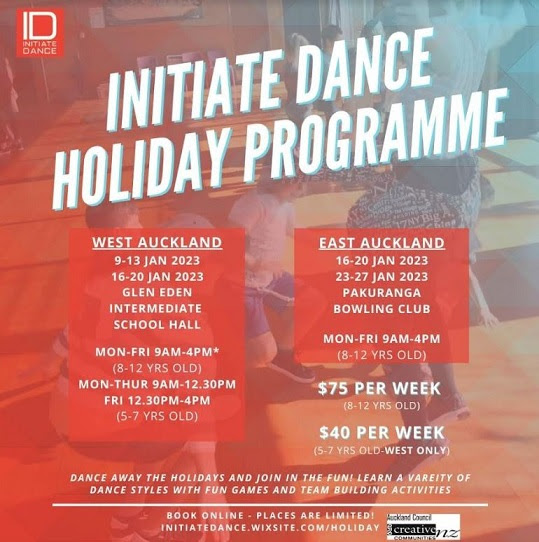 INITIATE DANCE HOLIDAY PROGRAMME JANUARY 2023 – EAST AUCKLAND
16-20 January 2023 (Week One)
23-27 January 2023 (Week Two)
Pakuranga Bowling Club
Monday – Friday 9am-4pm (8-14 year olds)
$75 per week (8-14 years)
Dance away the holidays and join in the fun! Each week learn a variety of dance styles, play games, and join fun team building activities.
The Initiate Dance Holiday Programme, supported by the Auckland Council Creative Communities Scheme, is all about engaging young people in a positive way during the school holidays.
No dance experience is needed. We create a fun, inclusive and safe space for learning, creating and sharing dance.
Each week will finish with a fun performance. BOTH weeks are different!
For bookings and more information visit https://initiatedance.wixsite.com/home/book
or contact initiatedance@gmail.com.