:
Nau mai haere mai, Greetings | Tena Koutou | Talofa Lava | Malo e Lelei | Namaste | Ni sa bula | Noaia'e mauri | Fakalofa lahi atu | Kia Orana | Asalam Alykum | Ni Hao | Konnichiwa | An Nyung Ha Sai Yo | Nay Ho | Goeie Môre | Привет
:
School Picnic
Thank you to everyone who was able to attend we estimate 1500 people. The bouncy castles and sausage sizzle were a hit. We feel we achieved our goal of bringing the community together as the spirit of the evening was amazing.
Lockdown and Emergency Procedures – What We do
At Pakuranga Heights Primary we take health and safety very seriously and employ a specialist company to audit us once per year in undertaking a lockdown. We also carry out regular emergency drills to practise and hone our procedures. There are clear, simple instructions for each drill displayed in every classroom and around the school. Teachers go over the drills with the students each term to make sure they are familiar with the procedures.
Fire drills carried out once a term and we will be having a drill before the end of the term. When the fire siren rings, we all make our way sensibly to the class names on the field fence. Class rolls called to ensure everyone is present.
Lockdown drills carried out each year. We have contracted to an outside company to train and keep staff up to date on the latest procedures. On hearing the lockdown signal, students and teachers remain in classrooms, or make their way quickly to the nearest classroom. Doors locked and blinds pulled down. Depending whether the lockdown is real or precautionary, students and teachers either assemble on the floor silently at a safe place in the classroom, or continue to work quietly at their desks. We ask that you do not contact the school via phone, or come to the school in a lockdown. Communication between the school and the community in a lockdown will take place via Facebook and signmee to keep parents fully informed and to keep phone lines free for communication with the police.
An earthquake and tsunami drill is in Term 3 to coincide with International Shakeout Day. When the earthquake signal starts, students drop, cover and hold in the classroom before they follow their teacher to high ground via agreed on routes.
I hope that we never need to evacuate for a real situation but at least we know we have systems and procedures in place if it occurs.
Education Review Office Visit
ERO will be visiting next term, as we are one of the last schools to start the new process of school evaluation. Our previous reviews resulted in outstanding reports.
The Education Review Office (ERO) is the New Zealand government department that evaluates and reports on the education and care of students in schools and early childhood services.
ERO's reports are used by parents, teachers, early childhood education managers, school principals and trustees, and by government policy makers.
Education reviews
Key features of the approach and what will be reported on our website
The shift to the new approach to evaluation, Te Ara Huarau, supports each school's improvement over time. We have introduced a new reporting model to ensure it aligns with the key features of the new approach
Key features include ERO:
working with all schools in an ongoing way rather than as a one-off event
connecting with each school's strategic planning and reporting cycle as part of their improvement journey
working in partnership with schools, collaborating in support of equitable and excellent outcomes for all learners.
Each school will:
have a dedicated ERO Review Officer (Evaluation Partner) who works alongside the school
have a different experience depending on needs, strengths, and their school's specific evaluation focus
be on a three-year evaluation cycle.
Education Review Office and Principal Partnership Programme
This week I am with the Education Review Office reviewing the schools in Great Barrier Island. It is a privilege to work alongside these schools to improve outcomes for their students. During the last week of this term I will in Dargaville reviewing schools there.
New Junior Classrooms and Senior School Area
These are looking to start within the next term. The Board of Trustees is currently investigating options for the senior school area including shade, play areas, seating etc. The students and staff have been researching ideas and sharing those.
Please Use the School Crossings
We strongly encourage all students and parents to use the school crossings. Besides the obvious safety issues, it is also respectful to the student patrollers and staff are giving up their time to ensure your child is safe.
Our staff have also witnessed a number of close calls when students and parents fail to use the crossing, please help us keep our community safe by modelling the correct use of the crossing and encouraging your child to do the same.
Reporting to Parents and Parent Interviews
Pakuranga Heights School acknowledges that encouragement and support from parents, whanau and carers are extremely important elements in the learning process. This partnership is the foundation of our vision 'Reaching new heights together'. This term over 85 % of our parents attended the school partnership meeting either by phone, Zoom or in person.
Establishing relationships: a ten-minute discussion within the first month of school for parents to share their aspirations for the learning partnership with their child's new teacher.
Written reports: In Term 3 to show progress and achievement and at the end of the year.
Three way conferences: after Term 3 reporting to discuss progress and achievement This is a vital time to encourage your child and show how home and school work together
Assessment data: shared as necessary ongoing throughout the year.
Parent information evenings
Informal conversations throughout the year with your child's teacher
Fintan Kelly
Principal

:
Attendance
Student attendance, along with effective teaching, has the greatest influence on student engagement and achievement. All students must be present at school so they can participate and engage in learning, establish friendships, develop social skills and good attitudes towards teamwork, and develop their understanding of classroom and school routines and expectations.
Students with high absenteeism are less likely to succeed in their learning. If a student misses five school days each term, or one day a fortnight, they will miss the equivalent of one year of school over 10 years.
It is really important that you place importance on regular attendance. As always, children learn by example and will take your lead. If you show a relaxed attitude to their going to school, then they will too.
Children are legally required to be enrolled at and regularly attend school. If this doesn't happen then parents, caregivers, whanau, can be prosecuted.

Absence Procedures:
If your child is absent on any given day, you must let the school know. You can do this by phoning the school office or reporting an absence via the school website. Extended absences will require a medical certificate.
Absences are described as justified or unjustified.
Justified absences:
Absent due to short-term illness/medical reasons
Justified absence – reason for absence within the school policy
Stood down or suspended
Unjustified absences: An absence that is either unexplained or, explained, but the explanation is not within the school's policy as an acceptable reason for the student to be away from school
No information or throw-away explanation
Absent with an explained but unjustified reason
Holiday during term time
Schools are legally required to follow-up on students who have regular absences and attendance data is reviewed weekly. Those students with regular absences will be referred to the School Attendance Service who work with other agencies such as the New Zealand Police, Immigration and the Ministry for Social Development to support regular school attendance.
Lateness:
The school day begins at 9am and it is important that students are in their classrooms when the 9am bell rings. Being on time means getting the most from lessons and will typically mean a student is ready to learn. This means aiming to arrive 10-15 minutes before the scheduled start of the day.
Occasionally other circumstances cause a lateness outside of the control of the student or parent/guardian. This is expected to be a rare event.
All students arriving after 9.10am must sign in at the office by their parent/guardian.
: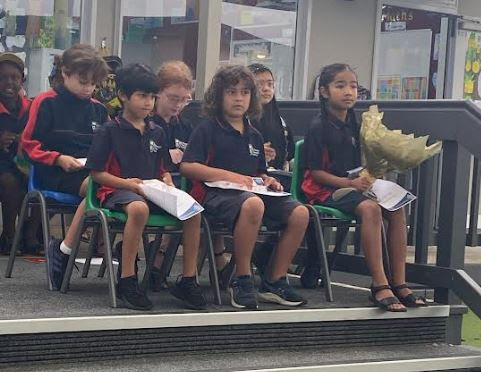 :
Year 1: Viraj Singh Rm4 Year 4: Jessica Holliss Rm16
Year 2: Lusi Tonga Rm7 Year 5: Kaira-May Toia Rm23
Year 3: Nikau Matene Rm13 Year 6: Heenah Safi Rm18

:
Two teams from our Senior school participated in the Softball field day on Wednesday 9th March. It was the perfect day for Softball, full sun and not a cloud in sight. Both teams were eager and excited to play, and as soon as we got to the field we had 5 games lined up for each team. Both teams worked hard as a team to produce awesome results with some wins, some losses and draws. All students were great sports and cheered on their own team members while being respectful to all their opponents. We are proud to have been able to represent Pakuranga Heights School on a field day.
The next PTA meeting is coming up on Wednesday 22 March. The meeting is held at 7pm in the staffroom (follow the ramp to the left of room 5 level 1) All parents/ caregivers are welcome to come along.
If you would like further information or a copy of the agenda prior to the meeting- please email Pta@pakurangaheights.school.nz



:
Student Leadership
There has been a focus this year on growing our student leadership programme, providing more opportunities for the students chosen for these roles to grow their leadership skills.
Last week the Sports Leaders, along with Mrs Elazegui, spent Wednesday at the inaugural Physical Activity Leaders, 'PALs', event. This event was run by Sport Auckland to develop and build students into confident physical activity leaders. The day was engaging, hands-on and most of all fun! The sports leaders came back to school with many plans for developing sporting and play opportunities at lunchtime for students right across the school. We look forward to seeing their plans become reality in the future.
This week, the House Captains are engaged in a week long leadership programme called Strength to Strength. This programme is being led by Growth Culture but staff are being trained in the facilitation of the programme at the same time so it can become an ongoing part of our student leadership programme. The programme is tailored to our school and includes modules in:
Celebrating Unity and Diversity
Values are important
The Anatomy of Trust in Leadership
Teamwork
Investment Literacy
The week finishes with the students designing an activation project which they will work on over the rest of the year.
Meet the Piwakawaka House Captains
Hello, my name is Aryah and I will be one of your Piwakawaka House Captains for 2023. I have 1 brother who came here from 2007 to 2012. I have 1 dog and 2 cats. My favourite animal is a wolf and my favourite colour is blue.
My name is Lulu and I'm a Piwakawaka House Captain. I come from Tonga and have 4 siblings named Mek, Eunice, Elizabeth and Robin. I love to play netball and rippa rugby. I am so happy to be a House Captain and have this opportunity.
Hello my name is Alyessa, I am 10 years old and I am your Piwakawaka House Captain for 2023. I have 2 siblings, 1 brother and 1 half sister. I also like to play netball and volleyball and I like to spend time with my family whenever I can. I am really excited for this year.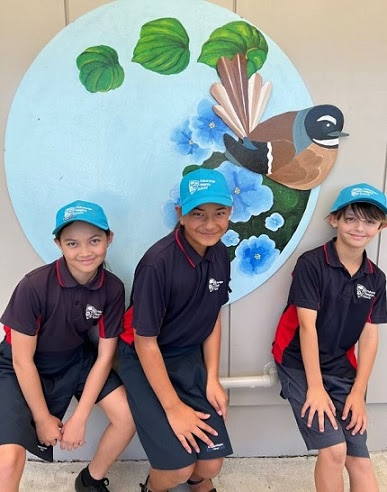 In Room 5 we have been reading The Ratty Tatty Cat for our big book and learning about ABAB patterns for maths. Here is what we have created.

Our 8 Travelwise Leaders spent the day at an Auckland Transport Workshop learning how we can make our roads safer for students and the community.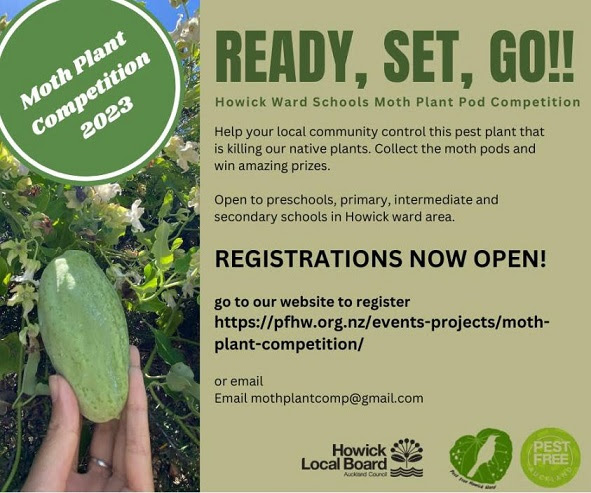 Curtains – Free (full lot, not individually)
We have 5 sets of thermal backed curtains, free to a good home – they are coming out of our Learning Support room and are in excellent condition – no mould or marks. Light beige/tan colour. Includes rails.
Measurements (estimate)
2 x 2m span, 1.8m length
3 x 1.8m span, 1.5 length
Please see Kristina or Ariane in the office if you are interested.