Nau mai haere mai, Greetings | Tena Koutou | Talofa Lava | Malo e Lelei | Namaste | Ni sa bula | Noaia'e mauri | Fakalofa lahi atu | Kia Orana | Asalam Alykum | Ni Hao | Konnichiwa | An Nyung Ha Sai Yo | Nay Ho | Goeie Môre | Привет
:
Kings Birthday
It does seem a bit strange after celebrating the public holiday for many years as the Queen's birthday. The King was born on November 14th , 1948
So why is King's Birthday 12th June?
The day has been celebrated since 1788, when Governor Arthur Phillip declared a holiday to mark the birthday of the king of Great Britain. Until 1936, it was held on the actual birthday of the monarch, but, after King George V died, it was decided to keep the date on the second Monday in June.
Teacher Shortage
Auckland is currently experiencing a significant teacher shortage. It appears experienced teachers are leaving for a number reasons including but limited to, the cost of housing, time spent in traffic, workload, and stress. The teacher shortage is most obvious in Auckland especially when you advertise a position that before Covid-19 ago attracted over a hundred experienced applicants that may now only attract three to five if you are lucky.
This has also resulted in a shortage of relievers when staff are away. As a last resort we sometimes have to split classes for the day as our normal relievers are not available and the agency who supply relievers across Auckland also have none available. The decision to split a class is not taken lightly as it affects the education of the students and adds extra work and stress on the teachers involved. We appreciate your understanding should this occasionally happen to your child's class.
School Field
The field has been in the wars recently with the amount of rain that we have had recently. Our caretaker Mr Fraser is busy trying to keep the worst areas marked off but mud appears to be an attractant for some children so keeping them out of the muddy areas is a challenge. This has meant that in patches it is pretty muddy so we encourage children to bring a change of clothes if they want to play on the field when it is open.
Bullying
We have been reminding the children at our assemblies that bullying is not acceptable and that we have zero tolerance. We have discussed what bullying is:
1. It is deliberate (on purpose).
2. It is repeated over a period of time.
3. It is difficult for those being bullied to defend themselves.
4. It can be difficult for those who bully to learn correct behaviour.
The last point is important because sometimes students have been bullied from a young age and see the behaviour as normal. The challenge is then to change the behaviour and protect the victim.
As a school we have also discussed strategies and where to go and ask for help such as peer mediators, teachers and their parents. All children should be happy and safe at school. Should you be concerned about your child, please see your child's teacher in the first instance then either the team leader or Mrs Claire Stretch who is in charge of pastoral care. The message we share with the children is that together we can stop bullying.
Student Attendance
Below are some graphs on the impact of absenteeism on your child's learning.
Below you can see the attendance rate then how this breaks down to how many days per fortnight your child is away, then how many per term and finally how many days of school your child has missed over a year.
Please be mindful of a day here and day there soon add up and significantly can impact on your child's learning and progress. This also applies to children coming in late each day as the time adds up and they miss quality learning time.
Learning Assistants
I would like to acknowledge and thank our amazing learning assistants. In the past the job of learning assistants or teacher aides as they were previously known was mainly cutting and pasting now they more fully involved from group work to caring for students with high behaviour or learning needs. It is a tough and demanding job and they have the respect and admiration of all the staff.
Fintan Kelly
Principal
:
Staffing Update
Miss Emma Parker, teacher in Room 8 will be finishing up on 13 June to pursue a career outside of teaching. Miss Parker started at Pakuranga Heights as a third year student teacher and opened a New Entrant class at the end of that year. We want to thank Miss Parker for her contributions to our school community and we wish her all the best for the future.
Mrs. Justine McManus will teach in Room 8 until the end of the term. Mrs. McManus has been relieving at our school this year so knows the children; we anticipate a very smooth transition.
Miss Kendall Spence, an experienced teacher who comes highly recommended by her last school, has been appointed to teach in Room 8 starting in Term 3.
Term 3 New Entrant Class opening
Mrs. Justine McManus will open Room 9 our New Entrant class.
In this current teacher shortage climate we are very fortunate to have appointed two experienced teachers. We wish to welcome Mrs McManus and Miss Spence to our school and the community.

:
FREE ENTRY – CYBER SAFETY INFORMATION EVENING
We have organised Author, Filmmaker and Speaker Rob Cope, producer of the documentary "Our Kids Online" to come and give what promises to be a humorous and eye-opening evening talk to our parent community.
Here is a promotional video for you to watch Our Kids Online Parent Evening.
The talk will be held in our school hall on Thursday 22nd June from 7- 9pm.
We strongly encourage at least one adult from each family to attend, this topic is too big for us not to pay attention.
: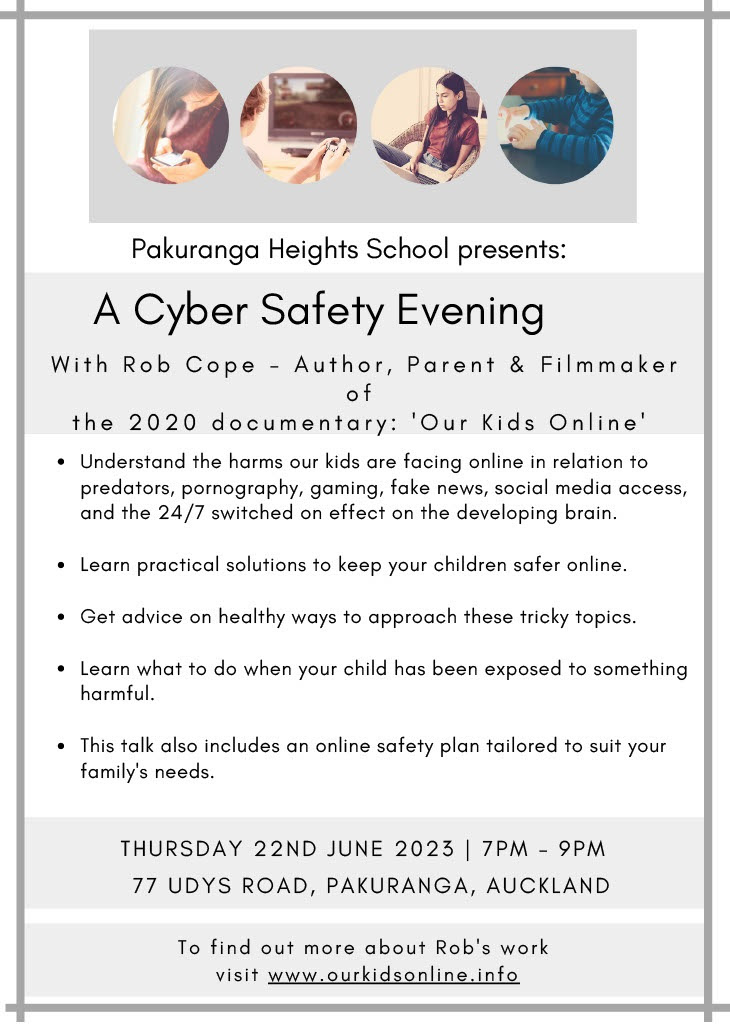 :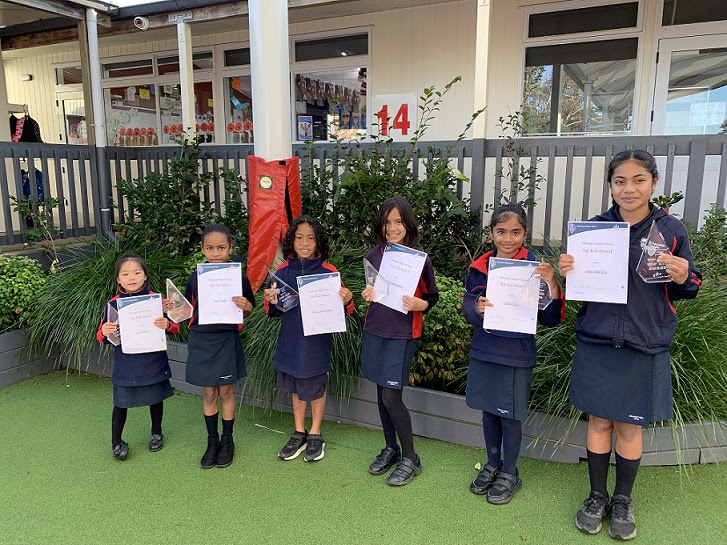 :
Congratulations to Coco Zhang, Joycee Radio, AJ Fretton, Alexandra Upham, Onelie Peiris and Sara-Jane Vai

On Tuesday 16th May Dylan Schmidt an Olympic Ambassador visited the Senior School students to chat to them about what it means to be an Olympic athlete in Trampolining. He gave us lots of tips and tricks on what it takes to be an Olympian and how to persevere to reach your goals. We loved having him visit our school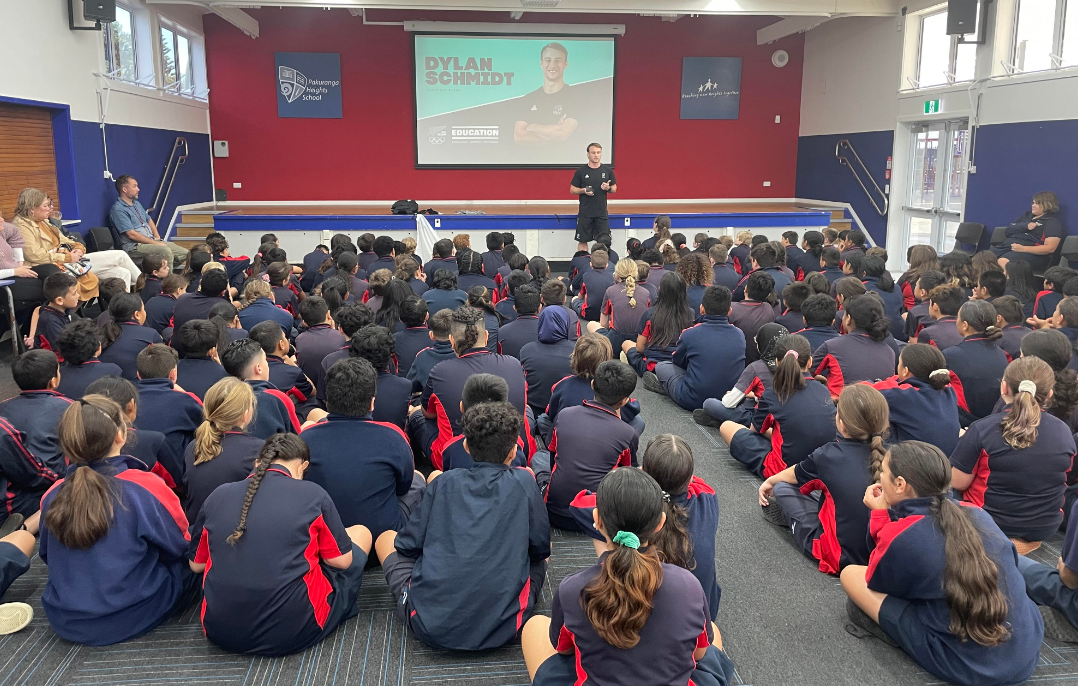 :
Pakuranga Heights under 40kg Rugby team took to the field on Friday 19th May. 15 of our students participated in a remarkable day of friendly rugby matches against several schools at Lloyd Elsmore Park. The event, filled with fun, showcased the incredible spirit of our students. Cheers echoed through the park, as our supporters, including proud parents and family, encouraged and celebrated the team's effort. Our under 40kg warriors displayed exceptional sportsmanship.

We were lucky to receive a visit and a donation of 50 basketballs and rugby balls from Marama Downes and the Tania Dalton Foundation this week. Marama is an ex-student of Pakuranga Heights from 2009-2011 and is the current recipient of a scholarship from the Tania Downes Foundation.
The Tania Dalton Foundation has partnered with Rebel Sport and Silver Fern Sport for the Pass it Forward programme. For every Pass it Forward ball sold in a Rebel Sport store an identical ball is donated to the programme and distributed to schools. Marama very fondly remembers her time at Pakuranga Heights and chose our school to receive a donation of balls. She was even able to pop in and see Mrs Burton who taught her as a Year 3 student!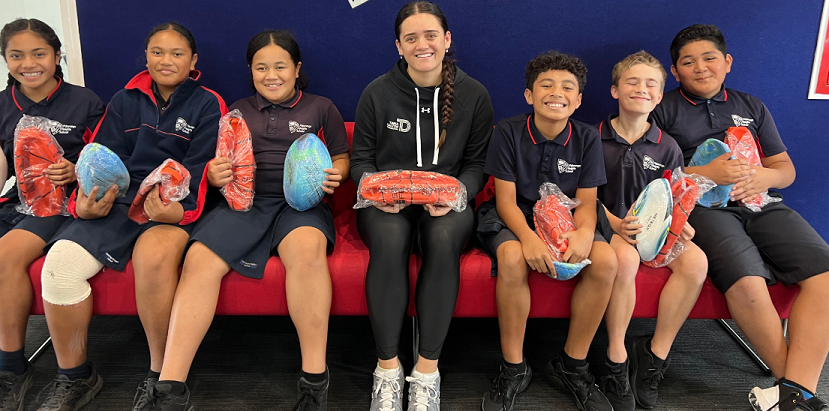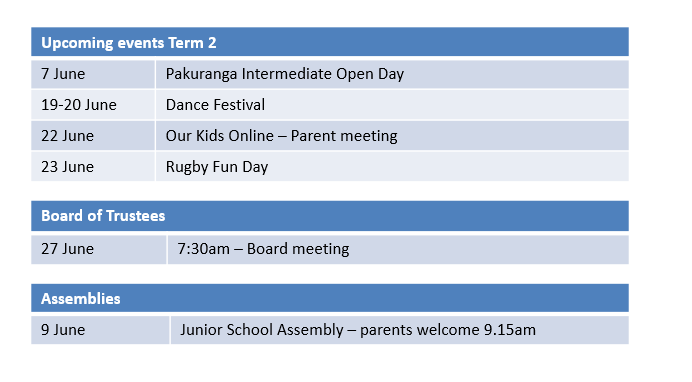 Talofa Lava!
Room 12 has enjoyed being a part of Samoan Language Week. Some of the things we learnt about were the Samoan alphabet, numbers, days of the week and songs. Our favourite song is Savalivali. Here is a photo of us with our booklets.

Advertised items are from paid advertisers or non-profit organisations and the content in these advertisements do not necessarily reflect the view of the school nor has the school endorsed their products.